Gallery
Thank you to Clancy Docwra
The school would like to say a big Thank You to Clancy Docwra for their generous donation of £1000 following the water improvements works which happened in Swallow Rise over the summer holiday. Harrison, Elise and Jessie happily accepted the cheque from Mark and Andy and will now discuss with the School Council how best to spend it!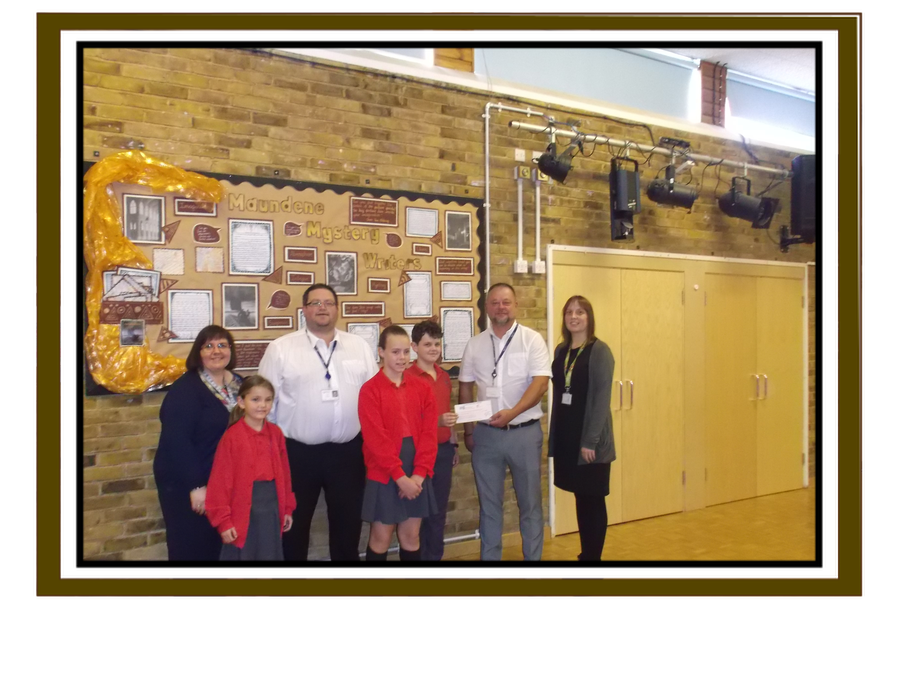 PiXL Celebration at The Indigo O2
Miss Wood and I took Veer, Rhianna, Allannah and Kyle along with their parents to the Indigo O2 on Thursday 15th June. They had been chosen for their effort and commitment during the PiXL interventions which have been taking place since September 2016. Schools performed and Ore Oduba (BBC Sports Presenter and winner of Strictly Come Dancing 2016) awarded them their prizes. It was a fantastic day celebrating the achievement of children across England. We had our picture taken with Ore and I even got taught the jive on stage with him! The main messages were: 'never give up, always try your best, persevere and practice!'
PGL 2016
Our Y6 children are having a great time, check here for more picture updates throughout the weekend!
Balloon Release for Emily Evans
The sky above Maundene Primary School was awash with pink and yellow balloons on Tuesday 13th June. What a beautiful way to remember our happy, little Emily. She will continue to be remembered through the sensory garden which will be named 'Emily's Garden.'
World Book Day at Maundene Primary
So many book characters joined us to celebrate World Book Day. So lovely to see so many parents reading with their children.
Fizz Pop Science Assembly
The children had a great time in assembly looking at all the wonderful and exciting experiments that can take place in science. The atmosphere was fantastic and lots of learning took place!
Key Stage 1 Countdown to Christmas
Well done to all the key stage 1 children who worked so hard in putting on a great performance to parents. We are all so proud of you and the effort you have put in. Thank you also to the team who without them, none of this would have been possible.
Decorating the School
Parents were invited into the school to help us decorate ready for Christmas. We had lots of fun making the school look festive and we then rewarded them with mince pies, biscuits and hot drinks. Thank you to all who helped out.
EYFS Workshop for Parents
It was great to see so many parents turn up for the EYFS workshop on Wednesday 23rd November. After a short presentation, there were tables set up to show parents how their children learn. Parents also got time to work through these activities with their child. Here is some of the feedback we received. Thank you to Mrs Cullum for delivering this session for parents.
"Everything was great and well presented."
"Really informative presentation."
"Lovely to see how far my child has come in just a couple of months and to see the activities they do in class."
"Was lovely to see what they get up to in school and having time to do the activities with the children."
"Very informative and presented brilliantly."
Here are some of the pictures that were taken during this session.
Children in Need
Maundene was covered in spots today to raise money for Children in Need. It was great to see so many children in spots and bouncing to raise money for those children who are less fortunate than us. We raised a whopping £1550! Thank you so much for supporting this cause, it makes me so proud to see how much the community of Maundene care!
PTA Halloween Disco
Ghouls and ghosts swooped into Maundene Primary School on Friday 21st October! What a fantastic turnout and a great time was had by all. Thank you to the PTA who organised a very successful event!